In order to reduce the number of malicious new accounts and routine ban evaders, players will need to have at least one of the following in order to connect to our servers:
25 total wins on Valve matchmaking

25 historic ESEA wins

50 FACEIT wins

50 5eplay wins

50 Gamers Club wins
If you have not met these requirements you will need to add more games before being able to join and play on ESEA servers. You can add more Matchmaking matches by entering your game code here. Alternatively, if you have over 50 FACEIT/5eplay wins then you can contact support here and state your FACEIT or 5eplay account to be manually whitelisted.
Coaches with non-CS:GO coaching backgrounds (eg traditional sports) may apply to be exempt from the minimum win requirement. However, they must only coach and not play in matches. In the event that they play without completing the requirement then the impacted games shall be overturned.
How do I find my game code?
Step 1:
Log in with Steam on csgostats.gg. Once you have done so, you should automatically be directed here.
Step 2:
Head to this link and make sure you are logged in to the Steam account that is linked on your ESEA profile.


Step 3:
Find your 'most recently completed match token' on the Steam page, and input it as depicted below. Make sure to then click 'enter', or click the search icon on the right side of the search field. You can also input your 'Authentication Code' which lets csgostats.gg automatically add future games of yours.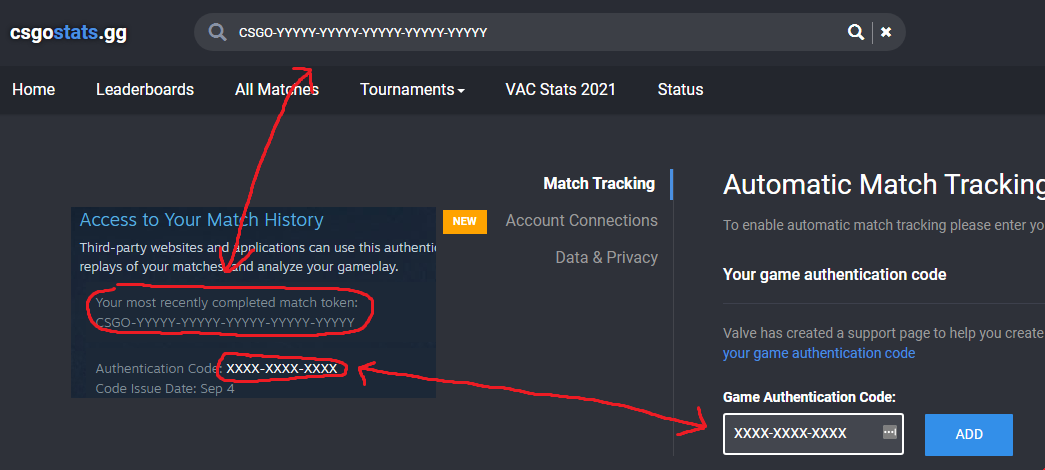 You can also find a valid match code in the game itself. Click here to see a screenshot demonstrating how.
---
Read more about this change in our news article.