If a player is being unpleasant and trying to ruin the game for others you can add them to your block list in order to avoid matching in the same team in the future. You can also rate them negatively at the end of the match. If a player continues to receive negative Karma at the end of each match they will automatically receive a ban once they reach -30 Karma.
While the Karma system is primarily a tool for any player to gauge how their behavior affects their teammates and works slowly to allow the player to try and adjust any behavior that might have resulted in a poor trend in their Karma progression, you also have the option to report a player at the end of a match.
At the end of each match, you are presented with a screen that looks like this: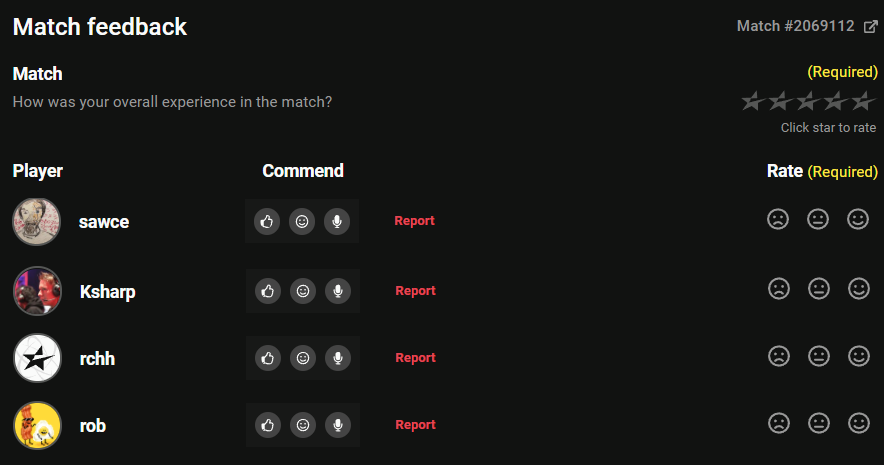 By clicking 'report' you are taken through a few steps that let you specify what it is you wish to report and by the end, your report will be sent through for our staff to review.
The report system is designed to more effectively remove players who demonstrate ill intentions and disrupt the experience of others. Reports are weighted in a way that prioritizes reports by players that report less often more. For example:
A) If a player is reported once in a hundred games then they are much less of a priority than a different player who is reported once in every ten games
B) If a player reports one player every single game then their report will be prioritized lower than a different player who reports one player every ten games.
A conduct ban is only placed following the manual review of a report by a staff member.
If you have any questions that pertain to the report system or a particular report of yours, we would love to hear from you if you submit a PUG Conduct ticket here.